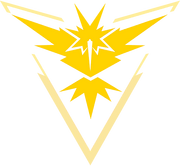 Team Instinct is one of the three teams that a player can join after reaching level 5 in Pokémon GO. The sigil for Team Instinct is a contour of the legendary bird Zapdos. Its signature color is yellow.
The team is lead by Spark and it focuses on trusting your instincts.
Team Instinct's values rely on trusting intuition. They believe that Pokémon have great intuition, and they are interested in learning more about the significance of their hatching.
Spark's Introduction
Edit
Ad blocker interference detected!
Wikia is a free-to-use site that makes money from advertising. We have a modified experience for viewers using ad blockers

Wikia is not accessible if you've made further modifications. Remove the custom ad blocker rule(s) and the page will load as expected.