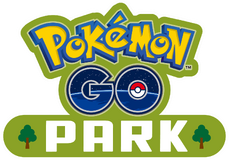 Pokémon GO Park was a Japanese regional event hosted in Yokohama, Japan from August 9, 2017 through August 15, 2017.[1]
Background
Edit
The event was held at the Cup Noodle Museum Park and Yokohama Red Brick Warehouse and various facilities around the Minato Mirai area. There was a Pikachu Carnival Parade held on the second-to-last day on August 14, 2017. A Pokémon GO Stadium event occurred on this day as well.[2][3]
Niantic stated that this event will offer a unique Pokémon GO experience.[1]
Locations
Edit
There were two areas in Yokohama that were transformed to into both the Kanto and Johto regions from the original game series.
Red Brick Park
Edit
The Akarenga area was transformed into the Kanto region. Pokemon from the Red, Green, Blue, and Yellow versions of the game appeared more frequently.
Cup Noodle Museum Park
Edit
This park was transformed into the Johto region. Pokemon from the Gold and Silver versions of the game appeared more frequently.
Raid bosses
Edit
A number of new Raid Bosses began to appear in Yokohama, Japan during the event.
Egg
Tier
Pokémon
No.
Name
Boss CP
Max CP
★★★★ (4)
025
Pikachu
11,845
450
052
Meowth
9,079
365
076
Golem
30,572
1,667
149
Dragonite
35,383
2,047
202
Wobbuffet
7,144
585
217
Ursaring
27,409
1,577
221
Piloswine
21,604
1,305
229
Houndoom
27,302
1,445
★★★★★ (5)
150
Mewtwo
49,430
2,275
The event coincided with Pikachu Outbreak.
On August 9, 2017, shiny Pikachu began appearing in Yokohama Park.[4]
The Unown that spawned at the event were: A, H, K, M, O and Y; which spelled "Yokohama."
Reception
Edit
Over 2 million fans celebrated Pikachu Outbreak in Yokohama the week of the event. Trainers captured over 120 Pokémon and 15 million of those Pokémon were Pikachu. Unlike what happened at Pokémon GO Fest, cell signal and data speeds rarely hindered anyone's ability to play the game.[5]
References
Edit
External links
Edit
Ad blocker interference detected!
Wikia is a free-to-use site that makes money from advertising. We have a modified experience for viewers using ad blockers

Wikia is not accessible if you've made further modifications. Remove the custom ad blocker rule(s) and the page will load as expected.