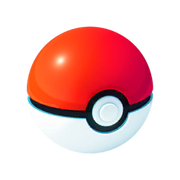 A
Poké Ball
is a device for capturing wild
Pokémon
.
When encountering a Pokémon in the wild, players can attempt to catch a Pokémon by holding down on the Poké Ball, sliding upwards, and letting go to launch it towards the Pokémon.
Players can influence bonuses on catching Pokémon by aiming the ball towards the center of the Pokémon while letting the circle indicator shrink down. The closer the ball is to the center, the better bonus you'll get. Players can also hold down the ball and spin it for a curveball bonus that grants additional experience. Selecting a better type of Poké Ball will make the Pokémon easier to capture.
In-game description
Edit
A device for capturing wild Pokémon. It's thrown like a ball at a Pokémon, comfortably encapsulating its target.
Types of Poké Balls
Edit
The better a ball is, the higher the chance of catching the Pokémon. The different ball types are unlocked for trainers as they level up, and they will start to receive them from Pokéstops when unlocked. Only regular Poké Balls can be purchased from the Shop.
Ad blocker interference detected!
Wikia is a free-to-use site that makes money from advertising. We have a modified experience for viewers using ad blockers

Wikia is not accessible if you've made further modifications. Remove the custom ad blocker rule(s) and the page will load as expected.