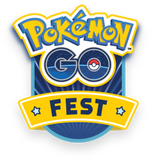 Pokémon GO Fest was an event that was that was held at Grant Park in Chicago. It was the first officially sanctioned event by Niantic and The Pokémon Company.
Background
Edit
Pokémon GO Fest took place on July 22, 2017. This event coincides with the Anniversary event.
Challenges
Edit
There were challenges for both attendees and Trainers around the world.
Attendees
Edit
PokéWalks
Timed Catch Challenges
Mystery Challenge
Trainers worldwide
Edit
Extending bonuses from Timed Catch Challenges
Unlocking Mystery Challenge
As a result of all the hard work put in during Pokémon GO Fest, incredible in-game bonuses were unlocked for the entire Pokémon GO community.
[1]
Based on the efforts of the Trainers at the event, Lugia was revealed as the first Legendary Pokémon to enter the real world. In addition, since Team Mystic captured the most Pokémon during the event, Articuno joined Lugia in Raid Battles immediately upon completing the challenge.
Legendary bird availability
Edit
The other two legendary birds, Moltres and Zapdos, were also unlocked, but they will be available in the weeks to come.[2]
| Bird | Name | Start date | End date |
| --- | --- | --- | --- |
| | Articuno | Saturday, July 22 | Monday, July 31 |
| | Moltres | Monday, July 31 | Monday, August 7 |
| | Zapdos | Monday, August 7 | Monday, August 14 |
Shop discounts
Edit
Main article: Anniversary Boxes
Event map
Edit
The Unown that spawned at the event were: A, C, G, H, I and O; which spelled "Chicago."
Reception
Edit
There were numerous networking and connectivity issues present, during the event. Many Trainers could not log into their accounts during the event. The game's CEO, John Hanke, was booed on stage for the frustration. Because of these issues, all attendees were refunded their admission cost, received $100 in Shop credit and given a free Lugia.[3][2]
References
Edit
External links
Edit