| | |
| --- | --- |
| | This article contains old or outdated information, or has not been updated in a while. It will be updated soon. |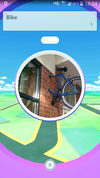 PokéStops are locations in the real world (normally historical markers, monuments, art installations, churches, etc.) that allow trainers to collect items like Poké balls, Pokémon eggs, and other accessories that would normally be found in the shop.
Trainers can collect items from them every five minutes. Players can be a few yards away to reach the PokéStops, so players can collect from them without entering buildings or while taking public transportation if the PokéStop is along the side of the road.
Once a trainer is within range, the stop icon will expand from a floating cube to a Pokéball symbol. Tapping on the spot brings up its image. Spinning the photo disc allows the trainer to obtain items. Items are obtained when the blue parts of the screen turn purple, as shown to the right. As the drops fall out of the inner circle, tapping on them will collect them, though this is not necessary. The stop will then turn from blue to purple and cannot be used again for five minutes. When the stop is close to the five minute mark, it will start turning from purple to blue, which can be seen from the Map View.
PokéStops give the trainer XP per use: 50 XP for five or less items obtained, 100 XP for six or more.
A PokéStop's drops are random, and one stop will normally give anywhere from 3-9 items.
If the same Pokéstop is traveled to 7 days in a row, it will drop extra items on the seventh day. Some items only become available once a trainer reaches a certain level.
PokéStops will only give the trainer an egg if they have space for it in their egg inventory.
If a trainer's inventory is completely full, the PokéStop will give a message stating such after spinning. The five minute timer will still be activated even if this message is received. Experience will still be awarded even if the bag is full.
Possible drops
Edit
| Item | Level Required | Description | Usage |
| --- | --- | --- | --- |
| Poké Ball | N/A | A device for catching wild Pokémon. It's thrown like a ball at a Pokémon, comfortably encapsulating its target. | Starter Pokéball type. Used to catch a Pokémon. |
| Great Ball | 12 | A good, high-performance Poké Ball that provides a higher catch rate than a standard Poké Ball. | An upgraded Pokéball with a higher catch chance than a standard ball. |
| Ultra Ball | 20 | An ultra-high performance Poké Ball that provides a higher catch rate than a Great Ball. | Pokéball with an even greater chance to catch. |
| Egg | N/A | Once you place an Egg in an incubator and walk a specific distance, the Egg will hatch into a Pokémon. | After hatching, a new Pokémon is obtained. |
| Potion | 5 | A spray-type medicine for treating wounds. It restores the HP of the Pokémon by 20 points. | Restores 20 HP to your selected Pokémon. |
| Super Potion | 10 | A spray-type medicine for treating wounds. It restores the HP of the Pokémon by 50 points. | Restores 50 HP to your selected Pokémon. |
| Hyper Potion | 15 | A spray-type medicine for treating wounds. It restores the HP of the Pokémon by 200 points. | Restores 200 HP to your selected Pokémon. |
| Max Potion | 25 | A spray-type medicine for treating wounds. It will completely restore the max HP of a single Pokémon. | Restores the max HP to your selected Pokémon. |
| Razz Berry | 8 | Feed this to a Pokémon, and it will be easier to catch on your next throw. | Distracts a Pokémon to increase chance of catching it. |
| Nanab Berry | 14 | Feed this to a Pokémon to calm it down, making it less erratic. | Makes a Pokémon slower and easier to catch. |
| Pinap Berry | 18 | Feed this to a Pokémon to make it drop more candy. | Gives more candy if the next throw is successful. |
| Revive | 5 | A medicine that can revive fainted Pokémon. It also restores half of a fainted Pokémon's maximum HP. | Revive your Pokémon whose health has reached 0. Target gains 50% health back. |
| Max Revive | 30 | A medicine that can revive fainted Pokémon. It also fully restores a fainted Pokémon's maximum HP. | Revives your Pokémon whose health has reached 0. Target gains 100% health back. |
| Dragon Scale | N/A | A scale that can make certain species of Pokemon evolve. It is very tough and inflexible. | Required to evolve Seadra into Kingdra. |
| King's Rock | N/A | A rock that can make certain species of Pokémon evolve. It looks like a crown. | Required to evolve Poliwhirl into Politoed and Slowpoke into Slowking. |
| Metal Coat | N/A | A coating that can make certain species of Pokémon evolve. It is a special metallic film. | Required to evolve Onix into Steelix and Scyther into Scizor. |
| Sun Stone | N/A | A peculiar stone that can make certain species of Pokémon evolve. It burns as red as the evening sun. | Required to evolve Gloom into Bellossom and Sunkern into Sunflora. |
| Up-Grade | N/A | A transparent device that can make a certain species of Pokémon evolve. It was produced by Silph Co. | Required to evolve Porygon into Porygon2. |