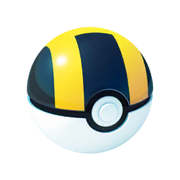 A
Great Ball
high-performance
Poké Ball
that increases your chance of capturing a
Pokémon
by 200%.
Ultra Balls are unlocked once the player hits Level 20. Upon leveling to 20, the player receives 20 free Ultra Balls and they become available via PokéStops.
In-game description
Edit
An ultra-high performance Poké Ball that provides a higher Pokémon catch rate than a Great Ball.
Becomes available from PokéStops at Level 20.
Ad blocker interference detected!
Wikia is a free-to-use site that makes money from advertising. We have a modified experience for viewers using ad blockers

Wikia is not accessible if you've made further modifications. Remove the custom ad blocker rule(s) and the page will load as expected.